Learn to Play: The Journey Begins
Part of starting this site is to document my journey into becoming a hockey player. I've spent my entire life following hockey and the next challenge for me is to get out on the ice and play! Growing up I never played in any organized leagues. I basically shuffled around on frozen ponds here or there, but never with any sort of consistency. So I'm going to consider myself a complete novice.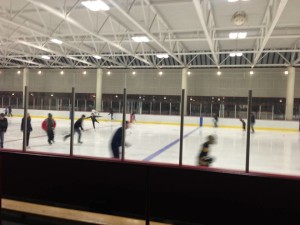 I began pursuing this for a few reasons:
I have been looking for a physical activity that will keep my interest.
I always wanted to play but never had the time nor money to keep up, now I do.
I want to gain a new appreciation for what I'm seeing when I watch professional games.
The first step for me was to find skating lessons and buy some equipment. The lessons weren't hard because there is an ice rink just a five minute walk from where I live and sure enough, they had a beginner session starting up. The next step was to go buy some equipment and I'll admit, this was the most intimidating step.
I spent some time perusing the online stores to get a feel for prices but knew I wanted to get properly fitted for what would hopefully be a pair of skates that will last me a while. My feet aren't growing anymore, so these are an investment. Off to Yelp I went to find a worthy store. I settled on Sports Etc., a small shop primarily focused on hockey located in Arlington, MA.
The sales rep, Paul, spent over an hour giving me different skates to try and really letting me feel the difference between brands, sizes, and price level. He answered all my questions and helped fit me for a helmet too. He even shared an amusing story about Jarome Iginla coming in to buy a hockey stick the day before because he wanted a spare for practice and his weren't going to be delivered for a few days. It was a great experience and I highly recommend checking them out for your hockey equipment, beginner or pro.
I left feeling confident with an awesome pair of CCM skates and a helmet to make sure this site continues to get updated even after my many falls. I'm excited to start lessons and I'll be sharing what will probably be some hilarious stories after each lesson. I'll also be posting some videos I've watched and websites that have gotten me even more excited about this journey. In the coming weeks I'll be signing up for a beginner's hockey clinic as well. So stay tuned for some great updates coming soon!